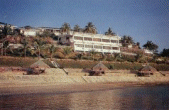 The province is a potential tourist destination; endowed with world class beaches and sceneries. General Luna in Siargao Island is a wave surfing destination. Beach cottages although available in all beach resorts are not so lack in facilities and amenities of international standard. Hotels and restaurants are not limited also.
The capital city has a Sports Complex, an Auditorium, Provincial Convention Center, Provincial Gymnasium and a private gymnasium equi

pped with facilities. The province shall construct additional facilities in its Provincial Sports Center in order to satisfy the minimum required facilities for a sports complex. These are the construction of a new Provincial Gymnasium, training/housing facilities for athletes, athletes booth, improvement of the swimming pool and track oval.
While the Province is promoting its vast tourist destinations, private investors shall be encouraged to develop and put up world-class tourist facilities in identified areas.